In the market for a new rollator or preparing to enhance your mobility through the purchase of your first one? At Able Medilink, Melbourne's top supplier of mobility aids, we stock a vast range of rollators, walking frames, seat walkers, walking sticks and more.
Our genuine, dedicated approach to improving the independence and mobility of our customers is just one of many reasons why you should shop for rollator offers in Melbourne with us. No matter where you are in your mobility journey, we're focused on supporting you and helping you maintain or enhance your independence safely and in style.
Who Can Benefit From Using A Rollator?
A rollator is for anyone who is facing mobility challenges and that wishes to increase their independence and safety while moving about.
Walkers are often a natural progression for individuals who have previously used a walking stick, they can also be someone's first introduction to a mobility aid.
No matter your age, gender, disability or mobility concern a rollator can be a great tool for enhancing your confidence.
If you're unsure whether or not you may benefit from the use of a rollator, we recommend speaking with a physiotherapist, occupational therapist or one of our experienced team members who will be happy to assist.
What  If I Cannot Use A Walker?
If for any reason we feel a rollator or walker is not the safest or best-suited option for your needs, we will be honest and upfront. Our goal is to ensure your safety, comfort and confidence through pairing with the correct mobility aid.
As our large range also includes walking sticks and mobility scooters among others, we're confident we can assist no matter your situation.
Where Can I Use A Rollator?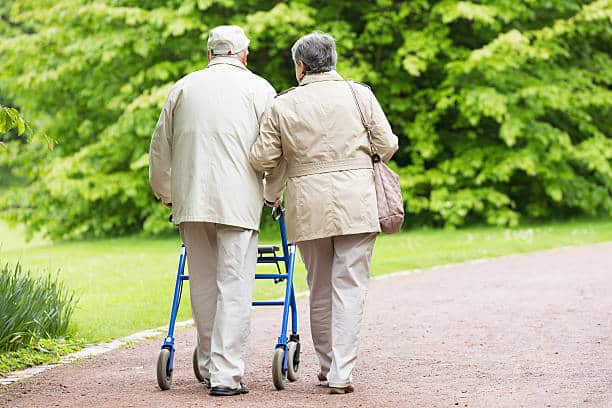 Modern rollators are incredibly versatile, being lightweight, easily manoeuvrable and available for several settings, rollators can be used just about anywhere. From heavy-duty rollators that can support you to enjoy the great outdoors to basic indoor ones that can even be taken in the shower, there really is a rollator to suit virtually every scenario.
Finding The Correct Rollator
When choosing your rollator or mobility walker, there are some key things to consider to ensure it is comfortable and well suited to your needs. These include checking:
Seat Height
Should your rollator feature a seat, you will need to review the height at which it is fixed and whether this can be easily adjusted. A seat that is too low or too high can pose a risk to your safety and make this feature unusable.
Seat walkers and rollators with seats are perfect for long days out when you need to rest or for those who need to frequently stop.
Frame Width
Usually tied to the required seat width, the frame width is pertinent when considering a user's size and comfort while using the walker. A rollator frame that is too narrow for the user can be prone to tipping or may make mobility worse.
Conversely, opting for a rollator that is too wide may mean difficulties in navigating doorways and other entrance ways. We recommended checking the width of your walker against  doorways at home or work before committing to a particular style.
Hand Grips
Comfortable hand grips are absolutely essential to the ease with which you use your walker. Hand grips that cause pain, numbness, blisters and more must be avoided.
Look for hand grips that are ergonomically designed to support a comfortable hand position and that give you confidence in steering your walker.
Environment Suitability
Does your walker need to be used both indoors and outdoors with ease? Some walkers and rollators are not dual purpose. Indoor only ones tend to be narrower, more lightweight and may easily collapse to fit beside furniture.
Outdoor rollators are designed to be tougher, with high-quality hand brakes, tougher wheels and other great heavy-duty features.
Hand Brakes
Safety first, always! Ensure that you can easily utilise the hand brakes on your rollator. Rolling walkers are fantastic for enhancing mobility, but without breaks, they can be a hazard both to your own safety and that of others.
Hand brakes should be effective without requiring enormous pressure and should be on both  handles of the rollator for optimal safety.
Weight
Thankfully, as technology and manufacturing have experienced numerous advancements, most rollators are now made using super lightweight, but durable materials. It is still important that you can adequately manoeuvre your walker at all times, however.
Be sure to take it for a test run indoors, if it has a shopping basket, fill it up and ensure that you can still manage it with ease. Keep in mind that added features such as baskets and seats can quickly add weight to an otherwise super-light frame.
Why Shop With Us?
As one of Australia's leading stockists of mobility aids both in-store and online, we've established ourselves as experts in the field. We provide only high-quality products at competitive prices and exceptional after care.
Going the extra mile and ensuring we support our customers is visible in the dynamic way in which we offer advice. Meet with us over skype from the comfort of your home, speak with us on  the phone, visit us in-store or shop around your schedule online. We're here to simplify and streamline securing the mobility aids you need while offering years of expertise and advice.
We offer shipping Australia wide and can arrange servicing and maintenance of aids as required to ensure their safety at all times. While you're shopping, why not check out our huge range of everyday living aids such as door grips, tap turners and reaching aids.
Not quite ready to buy but want to try? Why not hire one of our mobility aids first and ensure it is something you're comfortable with first?
Come meet the team at our Bentleigh showroom, call us on 03 9557 9038 or jump online from anywhere in Australia and start enjoying enhanced mobility today!