If you or someone close to you lives with limited mobility and is in the market for a new powered wheelchair to make their lives easier, the BREEZY P100 is a great option. Offering a host of unique features and flexible usage options this chair is a true stand-out. 
While there are many power wheelchairs on the market, the BREEZY P100 stands out as a leading choice for those with limited mobility. The perfect all-rounder, this chair is suited for both indoor and outdoor use and delivers versatility in a perfect compact package. 
To learn more and understand why trusted mobility aid supplier Able Medilink supplies this power wheelchair, read on. 
Why Choose The BREEZY P100 
There are several reasons why the BREEZY P100 should be on your list of powered wheelchairs to consider including but not limited to features such as: 
Easy Assembly
Use your new wheelchair without delay, the BREEZY P100 offers quick assembly and disassembly and is easily configured to meet your needs. This also makes for ease of storage and transportation as needed. 
Lightweight 
The BREEZY P100 is a lightweight power wheelchair, making it easy to transport. Weighing in at a little over 40kg even with the battery pack attached, this power wheelchair weighs significantly less than many other motorised wheelchairs. 
Compact 
The BREEZY P100 has a compact design, making it perfect for small spaces. Unlike its many counterparts, this folding, powered wheelchair collapses easily for simple storage and transportation. Once folded down it is just 300mm wide and is less than 1 metre in height before the backrest is folded down. 
Adjustable 
Fully adjustable and able to withstand changes in your daily needs, the BREEZY P100 makes it easier to find the perfect fit for your needs. Change the position of the flip-back armrests for easy transferring to a chair or vehicle. The flip-back desk-length arm rests also make for easy seating at a desk or table. 
As far as the seat height goes, you can also quickly adjust the height position and offer even better comfort for the user. The detachable footrests offer extra support but can also be removed if they are not required. 
Hybrid Capabilities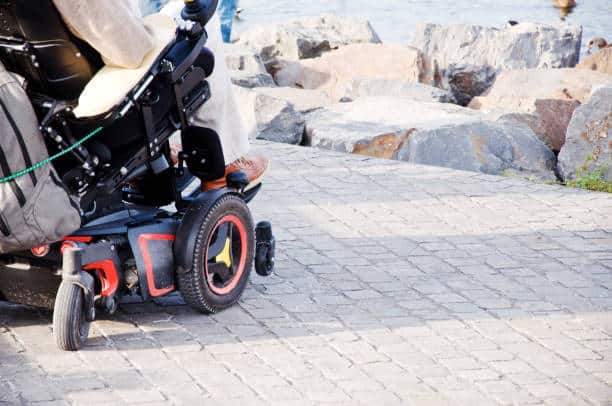 If finding a chair that is easily converted from powered to manual through the addition of self-propelling wheels, then the BREEZY P100 is perfect for you. Offering quick assembly and disassembly, this chair can go from powered to manual in a matter of moments. 
Simply remove the battery pack and create a manual chair through the simple addition of the propelling 24 wheels supplied with the chair. 
Added Extras 
As a bonus, the BREEZY P100 comes with a variety of accessories. Supplied with the chair, these accessories include a cup holder and tray table, so you can organise your things with ease. The thoughtful inclusion of a document pouch also allows for a tablet or paperwork to be carried safely too. 
Available in bright apple red, this chair is a stylish, versatile option for any wheelchair user or individual needing additional mobility support.  
An Affordable Investment In Your Mobility 
Compared to other powered wheelchairs, the BREEZY P100 is a great value, making it an affordable option for those with limited mobility. Enjoy all the benefits of enhanced independence and ease of getting around without the excessive price tag of other chairs. 
The BREEZY P100 is a great choice for those with limited mobility. It's lightweight and easy to transport, has a compact design, and is adjustable to fit your needs. Plus, it comes with a variety of accessories so you can customise it to your liking. 
If you're looking for a power wheelchair that's perfect for those with limited mobility, the BREEZY P100 is the way to go! Contact the knowledgeable and friendly team at Able Medilink today to learn more. We can consult with you via phone, in-store or even via Skype – our goal is to make your experience as streamlined and easy as possible.
Prefer to shop online? Our online range is one of the best in Australia with shipping available nationwide. 
Speak with Able Medilink today to get started on 03 9557 9038.