For so many of us, when we hear the word "crutches", we might think of an old-fashioned medical device that's more trouble than it's worth. However, today's crutches are remarkably different from the bulky, awkward models of yesteryear.
Today, crutches are sleek, lightweight and easy to use offering a host of benefits for people with mobility issues. At Able Medilink, we're committed to stocking the very latest in mobility aids, one of these outstanding innovations is the smartCRUTCH.
Designed to revolutionise the way in which individuals with mobility issues navigate everyday life, smartCRUTCH focuses on delivering enhanced independence and comfort. If you have experienced pressure and pain from the forces exerted by other crutches in the past then get ready to experience a significant change in these forces due to the unique design of smartCRUTCH.
Keen to learn more? Let's delve deeper into why this intelligent mobility aid or 'smart crutch' is the optimal choice for crutch users.
What Are SmartCRUTCHes?
The SmartCRUTCH design differs greatly from axillary crutches (better known as underarm crutches). Rather than supporting your weight via ungainly underarm crutches, smartCRUTCHes are used by placing your forearms in an adjustable forearm platform.
This distribution of your weight through your forearms has numerous benefits in terms of comfort and ease of use of the crutches.
Benefits Of Using SmartCRUTCHes Over Conventional Crutches
 Why smartCRUTCH? Let's take a closer look. The benefits of opting for smartCRUTCHES include but are not limited to the following.
1. They're easier to use than traditional crutches
 If you've ever used traditional crutches, you know that they can be cumbersome and difficult to manoeuvre. Operated with more of a coordinated swing motion, they do not allow for precise movements.
SmartCRUTCHes are different. They're designed to be easy to use, even for people who have never used crutches before. They deliver optimal support and a more natural walking motion is possible.
Part of why they're so much easier to use is that they are so lightweight thanks to their aluminium construction. They weigh in at just over 500grams per crutch for children and 1000grams per crutch for adults.
2. They're more comfortable than traditional crutches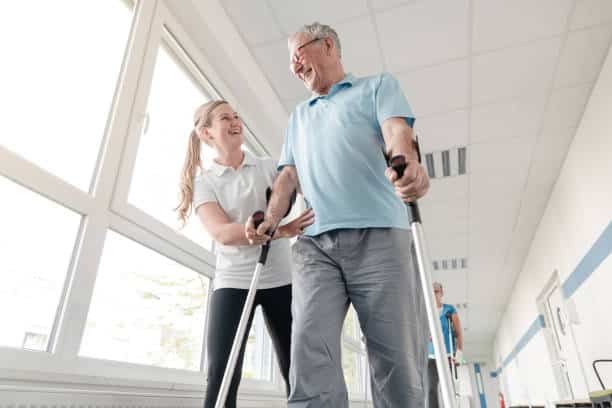 Traditional crutches are well known for being seriously uncomfortable – often causing pain and chafing in your armpits and shoulders. SmartCRUTCHes by comparison are ergonomically designed to be comfortable to use, even for extended periods.
The reason they're so comfortable is that the adjustable forearm rest eliminates the pressure and pain felt in the hands and wrists from traditional crutches. Constant pressure on the hands and wrists damages nerves and can lead to long-term issues.
By transferring weight into the forearms away from the hands, pain from your hands is no longer an issue. In fact, choosing smartCRUTCHes over traditional crutches means just ⅙ of the weight burden is experienced.
3. They promote optimal posture
Not only do SmartCRUTCH forearm crutches minimize forces on the hands, but they also promote better posture. Axillary crutches rely on the user to hunch over the crutches to support their weight.
SmartCRUTCHes allow individuals to stand upright, with fully adjustable height and armrests for comfort. The 15° to 90° forearm platform settings ensure that meeting personal comfort and mobility requirements are a breeze. You'll feel more confident and in control when using smartCRUTCHes.
 4. They're more stable than traditional crutches
 Traditional crutches are very unstable. Due to their design and the mechanism of use, they can easily slip out from under you, causing you to fall or trip. SmartCRUTCHes are expertly designed to be stable and secure.
Due to the unique design, a user's arms are securely placed in the forearm rests with a firm grip on the ergonomic handles. The hourglass shape footing also aids in keeping the crutch stable during use.
 5. They're more stylish than traditional crutches
 Let's face it – crutches, especially traditional crutches are not exactly synonymous with being stylish. SmartCRUTCH has worked hard to deliver a product that not only delivers exceptional mobility but allows users to show some of their personal flair.
They come in a variety of colours and styles, so you can find a pair that suits your taste. Choose from a total of 10 colours including:
Pink
Yellow
Orange
Black
Green
Blue
Silver
Red and more.
6. They're more affordable than traditional crutches
 Purchasing your own set of crutches can be a significant financial investment. SmartCRUTCHes have been developed to be as affordable and accessible as possible so everyone in need of quality crutches can experience their benefits.
Don't break the bank buying crutches that cause you nothing but discomfort and difficulties navigating everyday life, opt for smartCRUTCHes instead.
Experience SmartCRUTCH With Able Medilink
At Able Medilink, our core focus as a mobility aid business is to make accessing reliable, high-quality mobility aids easier. This is why we're proud to offer smartCRUTCHes to our customers.
If you're looking for an easier, more comfortable and more stylish way to get around, then smartCRUTCHes are the perfect choice for you. We welcome customers to test them in-store at our Bentleigh shopfront, or you can have a Skype or phone consultation to discuss their suitability.
Prefer to shop online and take advantage of our competitive prices and range? We offer Australia-wide shipping for the easiest experience on our website possible.
No matter your mobility needs, the experienced and friendly team at Able Medilink are here to help. We want all our customers to experience enhanced independence and confidence through better mobility support.
To purchase your pair of smartCRUTCHes or obtain any other mobility aid you may need, contact Able Medilink today on 03 9557 9038.