Maintaining your independence is important at any age. Whether you're aged 8 to 80 or beyond, mobility aids can help to facilitate important freedoms. Freedoms that boost your confidence and ensure you are properly and safely supported through all your daily activities. 
From lift chairs to walking sticks, wheelchairs, rollators and more, there are so many options designed to ensure you can still enjoy life to the full. One of these options is the innovative 2-in-1 transit rollator from Days. 
A cleverly and thoughtfully designed product, this rollator gives you all the benefits of a standard walking rollator with the added bonus of being able to convert it into a transit chair. Keen to find out more? At Able Medilink, we have prepared this in-depth guide to help you learn why mobility aid should be at the top of your list of must-haves.  
How The "DAYS – 2 in 1 Transit Rollator" Differs From Other Walking Aids 
If you're looking for a way to maintain your independence and mobility, the "DAYS – 2 in 1 Transit Rollator" is a great option. This innovative mobility aid can be used as both a rollator (a walking aid with wheels) and a transit chair (similar to a wheelchair that can be pushed by someone else such as a carer). 
This means that this superior four-wheeled rollator can be used indoors and outdoors, making it perfect for those who want to stay active but may need some assistance getting around. Giving individuals and carers a choice in how much support is needed day to day. 
This deluxe four-wheeled rollator provides users with flexibility and independence without compromising on the safety or comfort of the patient. 
Features Of The "DAYS – 2 in 1 Transit Rollator"
The "DAYS – 2 in 1 Transit Rollator" is packed with unique features that make it a great choice for those seeking a mobility aid. The transit rollator delivers all the important features of a walker combined with some clever additions that make it the leading choice for both users and carers alike.  
Some of these great features include:
 A sturdy, yet lightweight frame that can support up to 160kg

 Comfortable padded seat and backrest that aids in the user feeling even more supported

 Large, lockable wheels that make it easy to manoeuvre indoors and outdoors, even over uneven surfaces

 A basket for carrying personal belongings so you can always have your essentials nearby

 The ability to be used as a traditional walker or pushed by a carer as a wheelchair substitute as needed. 

 Adjustable handles

 Built-in footrest for ultimate comfort when in carer mode 

 Weighs just 8kg

 Narrow enough to navigate through most doorways while also providing ample seating room

 Rather than having to stop when you are tired you can just simply engage the flip-down footrest and ask your carer to push you instead 
It is easy to see why this 2 in 1 rollator/transit chair is becoming increasingly popular as a versatile and easy-to-use mobility aid. 
Stay Active With The "DAYS – 2 in 1 Transit Rollator"
One of the best things about the "DAYS – 2 in 1 Transit Rollator" is that it can help you stay active. Whether you're using it as a rollator, seat walker or a transit chair, this mobility aid will allow you to get out and about, even if you have limited mobility.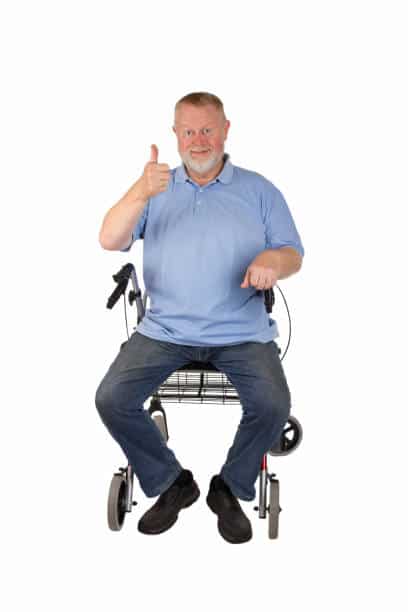 This can help you stay social and active, which is important for both your physical and mental health. With the "DAYS – 2 in 1 Transit Rollator" you need never choose between a walker or rollator to enjoy optimal mobility and freedom. You can confidently attend any event or outing knowing your aid can easily shift to support your changing needs as they arise. 
Additionally, while mobility scooters offer exceptional ease and mobility, they also come with added cost and maintenance. This combination of a rollator and a transit chair means you have a choice on how to settle in for comfort and can easily transition between the indoors and outdoors. 
There are no batteries to charge and no maintenance to pay for, just the ability to keep being active while feeling fully supported and independent. 
"DAYS – 2 in 1 Transit Rollator" The Ideal Choice For Seniors 
The "DAYS – 2 in 1 Transit Rollator" is a great choice for seniors for many reasons. 
Firstly, it's designed to be easy to use, so you won't have to worry about struggling with it. All components move smoothly and can be adjusted or locked in place when needed. Being only 8kg in weight, it is also easy to transport so you can use it to its full advantage no matter where you're headed.  
Secondly, it's packed with features that make it comfortable and convenient to use, such as the padded seat and backrest, the large lockable wheels and the fact that it can be folded down with ease at a total weight of just 8kg. Meaning you can take it anywhere, anytime.  
Lastly, it's a great way to maintain your independence and mobility as you age. It does this without the need to spend thousands on a motorised scooter or forgo being able to move between your home and the outdoors easily. As it is easily used by carers and individuals, it also enables a simplified transition of care as needed. 
Not Only For Seniors…
This innovative transit and transport chair and walker is not only for seniors, it is perfect for use by anyone seeking to enjoy enhanced independence. As a truly flexible mobility aid suited to home care, everyday outings, outdoor walks and more it is well suited for individuals of any age. 
Available in a bright, on-trend Apple Red colour we encourage our customers to try this rollator out for themselves in our easy-to-find Bentleigh showroom. 
Why Able Medilink?
Wondering why you should buy your new 2-in-1 transit rollator with Able Medilink? When you shop with us, not only are you guaranteed exceptional quality products but outstanding customer service also. 
Our team is passionate about supporting individuals to achieve optimal independence while prioritising comfort. We talk you through all your options and help you determine which mobility aid is the ideal fit for your needs. 
Our range is one of the most comprehensive in Australia and is available for purchase in-store, over the phone, via Skype consult or online. We offer shipping in Australia wide and every purchase comes with our exceptional aftercare as required. 
Need flexibility regarding payment options? We never want payment concerns to be a barrier to our customers' ability to access the mobility aids they need. As such, we have over eight accepted payment methods including ApplePay, ZipPay, AfterPay, PayPal and more! 
No matter your age or your mobility needs, we are committed to respectful, supportive and insightful care of our customers. When you choose to shop with Able Medilink, you are choosing genuine care from a team of dedicated experts. 
To learn more, simply call our friendly team today on 03 9557 9038.