If you require the use of a mobility aid such as a walking stick you need to know it is designed for comfort, safety and durability. At Able Medilink, we understand how important your independence is and that using a walking stick can be as commonplace as wearing glasses.
This is why we offer a wide range of walking sticks designed to suit your needs, lifestyle and personality. You can view our extensive range via our online store, visit our fully stocked Bentleigh showroom Melbourne. If neither of these options works for you, we are happy to speak with you by phone or via a Skype video link. Our goal is to make the process of finding your perfect walking sticks as straightforward as possible.
Who Can Benefit From Using A Walking Stick?
Walking sticks are not just for the elderly. Walking sticks help anyone with balance issues walk with improved confidence while also relieving tension on bones and joints. Anyone who experiences pain in their knees or hips when walking struggles to navigate uneven terrain, or is afraid of falling can benefit from a walking stick.
Walking canes or sticks are also ideal for anyone who has experienced a mobility impairing injury, illness or was born with mobility challenges related to walking.
Walking Stick Vs A Walker
Knowing whether a walking stick or a walker is the better option for you will come down to your circumstances. If you require the ability to sit and rest at regular intervals or feel more comfortable supporting yourself with two hands, a walker may be a better option. Walkers are also a great option for long days out when walking with a cane may become tiring.
For those who need lesser support but cannot walk comfortably or confidently unaided, a walking stick is ideal. Of course, you can always combine the benefits of both should you desire.
Advantages Of Using A Walking Stick
Using a walking stick has several advantages, these include:
The encouragement of better, more upright posture. This reduces the strain in your upper back from hunching and can also help to strengthen the upper back.
They reduce the weight and pressure on your lower back, hips and knees. This is particularly helpful for those with arthritis or joint inflammation.
Enhanced personal safety for those who have experienced falls in the past due to being unsteady on their feet.
Can improve your independence and reduce the need for physical support from a carer.
Can support better coordination and a boosted range of motion.
Allows for better endurance as users are less worn out managing their mobility challenges.
Types Of Walking Sticks
Thankfully, there are walking sticks for all levels of ability and in a huge range of colours and styles to suit your personality. They need not be viewed as a hindrance but rather an accessory that adds to your appearance and shows off your style.
At Able Medilink we stock;
Wooden Walking Sticks
Classic, simple and stylish, our wooden walking sticks feature a wooden t-shaped handle and aluminium height adjustable stick. If preferred this same design is available with a soft grip handle in place of the wood. We do not stock solid wood canes as these are unable to be height adjusted and therefore are best when custom made.
Quad Base Walking Sticks
Featuring a larger base with four rubber tipped contact points, a quad based stick offers optimal balance and stability for users. Made from lightweight aluminium, the rotating handle makes it easy to use in either the left or right hand.
Our quad base walking sticks are also available as a crooked quad cane. This cane comes with a double hand position which assists the user to rise into a standing position.
Folding Walking Sticks
Available in a huge array of patterns and colours, these lightweight aluminium walking sticks are completely height adjustable and foldable. Compact and comfortable they are suitable for both men and women and can be easily collapsed for transport or storage.
Swan Neck Walking Sticks
Designed to help distribute the user's weight more evenly through the walking stick, this option is often recommended for heavier individuals or those who are inclined to lean their weight forward into the stick. They are available as a quad base also and are made with lightweight aluminium.
Carbon Fibre Walking Sticks
Lightweight and incredibly durable, these canes also come with the option of an added umbrella attached. Our carbon fibre canes offer a firm grip but soft handle for user comfort.
Safety While Using A Walking Stick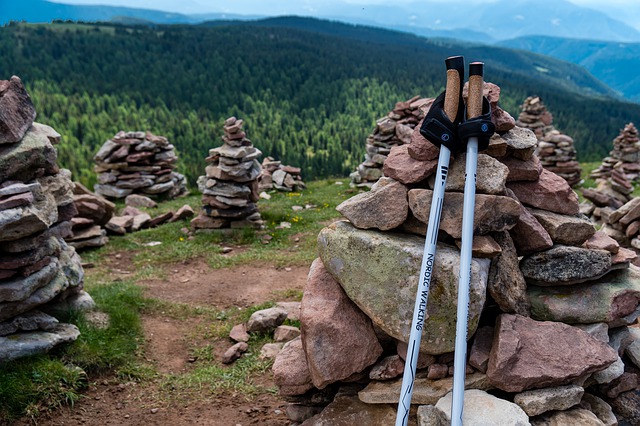 It may sound simple, but using a walking stick can be challenging to begin with. To ensure the safety of the user it is important to be familiar with some basic safety instructions.
Always look straight forward and not at your feet while walking and step forward with your strongest leg first – particularly if going up or down stairs.
Ensure your home or workplace is free of trip hazards such as cords, small rugs and awkwardly placed furniture.
Never use a walking stick with perished rubber tips and ensure to keep them clean of lint and grease as these can all cause the can to slip during use. This is a key safety point to avoid injury.
Be careful using a cane around animals and small children who do not understand the need to keep clear. This ensures you remain upright and no accidental injury occurs to them either.
Remember that a cane is not a guarantee against falls. Always use with extreme caution on slippery surfaces such as water, ice or oil and when navigating stairs or curbs.
Never use your walking stick to help you sit down as it is not stable enough. Have a carer help you or use a hand to support you on the arm of the chair as you lower yourself down.
Why Shop With Us?
At Able Medilink, we have years of experience enhancing the lives of customers with mobility challenges. We are passionate about helping people live their most independent, fulfilled lives with confidence and comfort.
Our skilled team can help guide you to the right walking stick to suit your needs and ensure it is perfectly adjusted for comfort. Our range is designed to offer you the most affordable, high-quality options that will last for years to come. Should you not see the style or design you are after, simply ask our team who will be more than happy to try to source it for you.
With shipping available Australia wide and virtual consultations offered, shopping with Able Medilink for your perfect walking stick couldn't be easier. To speak with one of our friendly and highly experienced team members, call today on 03 9557 9038 or visit our Bentleigh showroom.